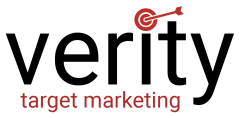 Verity Target Marketing from Borrink Consulting is an industry-leading direct mail and marketing technology firm specializing in hypertargeted direct mail and digital marketing.  Verity is active in the moving industry, and several others like automotive, political, real estate, golf, health care, financial and movies and entertainment.
By combining best-in-class direct mail and digital remarketing, movers can reach most of the potential customers that had alluded them before, and do so in a cost-effective manner.
Verity Target Marketing's Direct Mail – Game Changing Technology
We've all used direct mail in the moving industry for years. In fact most marketing experts know
that direct mail isn't dead yet! Here is how Verity's product is distinct from the others:
Product 1 – Direct Mail   We send a 6″ x 9″ postcard to prospects whose property has just gone under contract. Once a week, Verity's national data file identifies those properties and loads the data file for mailing.
Select by zip code, home price, home size and more.
Test multiple versions of postcards for optimal response rate.
Tracking are numbers provided, routed to wherever you want.
Suggested tracking URL's can measure direct web traffic.
Product 2 – Targeted Remarketing    Verity maps the physical address of the targeted household to its IP address allowing us to serve hyper targeted banner ads or videos to all devices connected to the home network.
Dozens of algorithms in play to get the most pinpointed targeting.

Retarget digitally those people who have just had their home go under contract.
Directly track visits through Google Analytics.
Recommended frequency of 3-4 ads per day.
Serve up multiple ads with various brand messages, marketing to consumers as they consider a moving company.
Product 3 – Digital Direct Mail     If you have at least 30,000 visitors to your website per month, we can map the IP addresses of visitors to your website to their physical home address and send targeted direct mail to them just days after being on your website.
Recapture lost visitors.
Send them direct mail with richer offer than was on your website.
Segment down further to make the most of your investment (e.g. only send direct mail to visitors of your website with home value over $300,000).
Track those that have seen "multiple touches" of your brand…and track their conversion rates separately.
Visitors to your website (that you really want to reach) receive direct mail from you within 48-72 hours of visiting your site.
Verity's patented technology maps the visitor's IP address to their home address about 50% of the
time with 95% accuracy.
Product 4 – Creative design – postcards and banners     With over 14 years experience in the van line and full service moving industry, we have created or advised hundreds of campaigns for movers. Work with our award winning designers to create the perfect postcard and banner for your brand.
We Don't Follow Standards, We Define Them
Verity-backed campaigns are 50 to 100 times more targeted than television, 6 to 60 times more effective than other online ads and have an average click-through rate (CTR) 3.2 times higher than industry averages.
See Our work!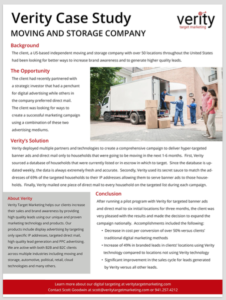 Contact me and Learn More
At Borrink Consulting, we love to educate our clients and talk more with them
about their marketing challenges. I'm always available to talk further either by
email (chris@borrink.com) or phone (call or text) 630.935.0281.
Fill out the form below and receive a free case study
on how our services helped a national moving company drop their lead
costs to under $25.

Contact Borrink Consulting