The way that business market to people is taking a drastic shift to the online sector. Yet, even in this realm things continue to shift; we all know it is important to stay on top of it all.
Several moving companies I know have all hopped on the app bandwagon. Yet let's review some data from this presentation that shows us the apps where people spend most of their time: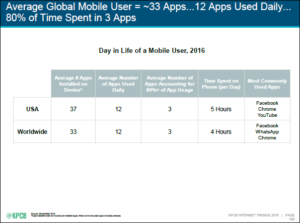 Want to know how useful it is to continue to market on the phone? Or maybe you are exploring video ads? Mary Meeker's 2016 report does not disappoint. In it, you'll find useful data in making spending decisions on your business, and recognize global trends almost before they start.
http://sitetuners.com/blog/rethink-those-advertising-dollars-what-mary-meekers-2016-report-means-for-marketers